Part of the life I signed on for,
Expected,
His new hours aren't bad-
Weekends off
At least it's not nights!
Just rearrange the schedule
Like we always do and
Adjust.
But something hardens
The words "shift change" hit this time unexpectedly
Like tipped arrows,
Nicking my heart with the poison of
Self Pity.
No!
I don't want to s-h-i-f-t and
I don't want to change!
I like the way it is.
A soul level tantrum where I cannot pray, "Search me…"
Because He will not find poetry inside,
Only the off rhythm heartbeat of,
"Me, me, me, me."
The shift comes and the change happens
I fold my arms and pout, until
The dark parts are held up to the Light and
The still small Voice whispers,
"It's time"
I surrender to the shift
I embrace the change
I adjust and
I grow.
And Shift Change becomes
Good.
**************************************************
I'm writing this today as an expression of gratitude for my patient husband, who loves me through the "soul tantrums" and times when my heartbeat is off rhythm.
I'm linking up for the first time with "A Holy Experience" for Walk with Him Wednesday"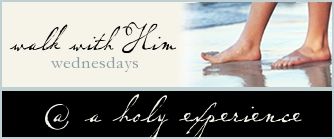 And also for a second time with sweet Emily for Imperfect Prose. I'm so thankful for the permission to admit and to be imperfect.
Love,